The Mexican beverage company Jumex is undoubtedly the world's first transparent aseptic packaging company using Tetra Pak. The package is a triangular, fully transparent film product that completely inherits the advantages of Tetra Wedge paper/PET barrier packaging.
Jumex produced a small batch of Mundo Nautix vitamin-fortified beverages for sale in May in Mexico. The proprietary barrier technology in the 6.75-ounce package uses silica/polyethylene terephthalate (PET) rather than the traditional cardboard and aluminum foil used by Tetra Wedge. This technology offers the same excellent oxygen barrier effect. The packaging material is moisture-proof and anti-fragmentation, and it is equipped with a film wrapped straw. Transparent packaging not only allows consumers to visually see the product, but also its barrier technology provides complete protection of product quality. Sterile treatment makes the taste and nutrition sealed. The transparent package's compact design, smooth outer edges and flat edges make it ideal for children to drink. Its size and shape also make it easy for children to hold their hands.

Tetra said that the company's next plan is to introduce this new technology into the US market. Tetra will work with beverage brands that have a direct advantage in the highly competitive beverage industry. In fact, Tetra Pak said the plan will be implemented this year.

The new packaging is said to be the world's first high-barrier, fully transparent aseptic package. Jeff Kellar, Tetra Pak's vice president of strategic business development, said: "The product was originally sold in Wal-Mart in Mexico and the market received strong feedback. In addition, the response to trial sales in the United States was equally positive. When the children saw this At the time of the product, their response was very direct and they shouted 'Wow! I have never seen anything like this!'"

Demand for healthy beverages is heating up, according to Vanessa Solmaz, business development manager at Tetra Pak. The new packaging will help meet this demand. The 6.75 oz. package can be used for both high acidity and low acidity products with a shelf life of up to 12 months. Why does Tetra Pak turn to film packaging? The company's answer is: "This packaging technology provides a unique solution."


Source: Packaging Expo


Electric curtain, what differ from tradition is: annular slippery line and condole ring are bound no longer be an organic whole,
It's connected by a belt. Specific structure is: belt drive, in the closed curtain rod inner cavity operation, belt traction curtain and then traction ring. This kind of new-style electric curtain belt does not show, won't be covered with dust and twine, can electric begin to pull compatible, make shower curtain very appropriate also.

Electric curtain, by motor, deceleration wheel group, active wheel, pulley and belt are comprised, its characteristic is: exceed quiet sound, slow start slow stop, lever inside cavity runs, and condole annulus is covered entirely in curtain lever outside circumference or embed the seam that opens into the bottom inside.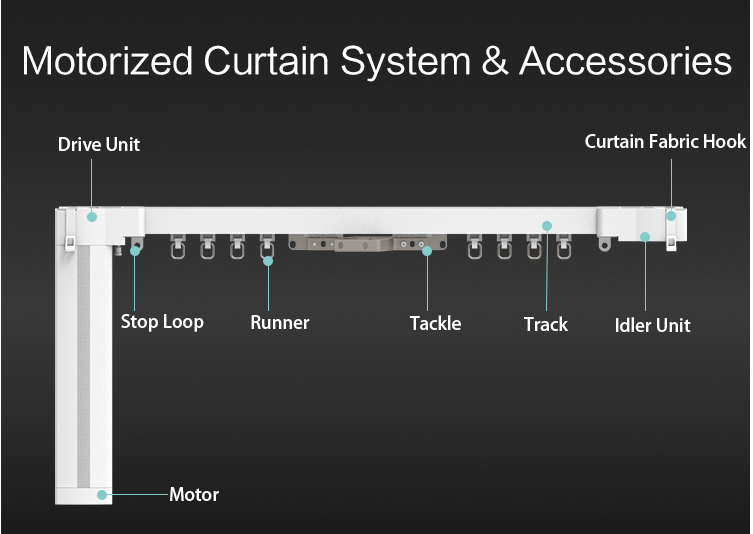 Wireless Remote Control Curtains, Automatic Electric Curtains, Office Use Electric Curtains
Ningbo YINGBOTE Trading Co.,Ltd , http://www.intelligentoffice-cn.com